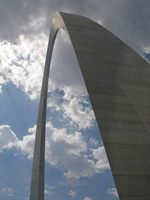 Welcome to Saint Louis
"Gateway to the West"
St. Louis is an independent city in the U.S. state of Missouri. It is bordered by the Mississippi River on the east and by St. Louis County on the north, south, and west. Famous for "Toasted Ravioli" :an Italian appetizer now offered on the menu at Olive Garden, the 1st Ice Cream cone and Pork Steaks (a staple of the St. Louis Barbecue).
Sometimes written as Saint Louis, the city is named for King Louis IX of France. St. Louis is known for its French and German heritage and Victorian past. Two events at the beginning of the 20th century, the 1904 World's Fair and 1904 Olympic Games (the first ever held in the United States) are of particular pride to St. Louisans. In the 21st century, St. Louis has transformed from a manufacturing and industrial economy into a globally known focus for research in medicine, biotechnology, and other sciences.
Sports: